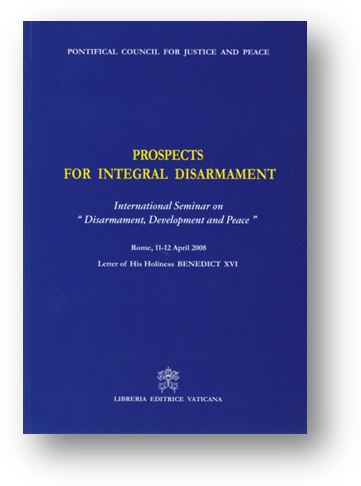 It is with great joy that I present the Proceedings of the International Seminar on "Disarmament, Development and Peace" Prospects for integral disarmament", a necessary and at the same time "prophetic" initiative … by the current international scenario. (from the Preface by Card. Renato R. Martino).
The volume published by LEV (2009, 143 pp., 8 euro) collects the speeches and contributions of the speakers at the Conference organized by the Pontifical Council for Justice and Peace (since August 2016, it merged into the Dicastery for Promoting Integral Human Development) on the urgent and always topical issues of disarmament, the development of peoples with the challenge for a human right to peace. 
Contents:
Disarmament, an ethical and spiritual question. – Prospects for a geopolitics of Peace and development. – The international arms trade. – Overlaps between civil and military economics: the question of dual-use. – Disarmament and human rights: challenges to the right to peace. – The role of international organisations. – The role of non-governmental organizations. – The role of religions.