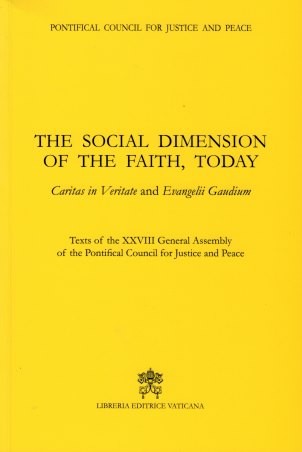 2014 was a year of many anniversaries for the Social Doctrine of the Church. Ten years had passed since the publication of the Compendium of the Social Doctrine of the Church and five since that of the social encyclical Caritas in Veritate by Pope Emeritus Benedict XVI. It was also the first anniversary of the Apostolic Exhortation Evangelii Gaudium by Pope Francis, the fourth chapter of which has enriched papal social teaching.
The Pontifical Council for Justice and Peace (now, Dicastery for Promoting Integral Human DevelopmentI) was influenced by this concurrence of anniversaries when choosing the theme for the 2014 General Assembly (1-3 October). In this short publication, readers will find texts delivered on that occasion.
We hope that The social dimension of faith, today may contribute to an update in developments in the social teaching of the past few years.
The volume has been published (LEV, 2015) in English, French, Italian, and Spanish.