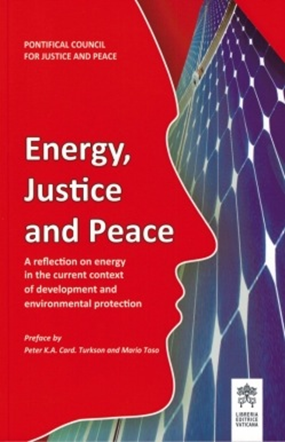 This contribution by the Pontifical Council for Justice and Peace (which has been merged into the Dicastery for Promoting Integral Human Development, in August 2016) is not a geopolitical analysis, a programming document of a technical nature or a universal recipe, but rather a reflection intended to nourish other reflections, to inspire decision-making by the competent authorities and their application, to provide theoretical knowledge to those directly involved in the field, and finally to raise public awareness of the energy question. This is a question to which the Magisterium of John Paul II and Benedict XVI devoted constant and growing attention and which - in line with Pope Francis' concerns regarding poverty, economy and ecology - remains extremely relevant.
Energy, Justice and Peace is structured around two main parts which are in turn divided into thematic chapters: the first considers energy as a challenge for justice and peace, the second as a means for development, justice and peace. Among the topics considered are: role of institutions and education; problems caused by the dominant economic model that absolutizes profit; expectations regarding technological progress but above all better governance; danger posed by misleading or ideological interpretations of concepts such as "green" or "modern"; the links between energy and food.
A long introduction explains various terms and concepts that are sometimes misunderstood or taken for granted. The final part of the text is predominantly proactive and involves governments, civil society and individuals.
The volume was published by Libreria Editrice Vaticana in 2013 (LEV, 149 pp. 14 euro) in English, French, Italian, Spanish and Ukrainian.