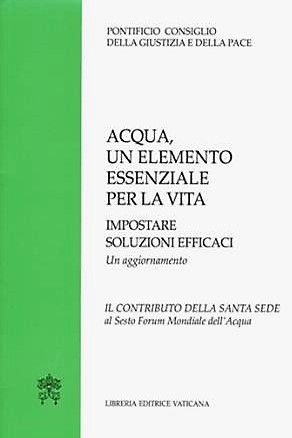 On the occasion of the Sixth World Water Forum, scheduled in Marseille (France) from 12 to 17 March, the Pontifical Council for justice and Peace (which is now merged ito the Dicastery for Promoting Integral Human Development)  has drawn the support of the Holy See, entitled Water, an Essential Element for Life, which has as its subtitle Designing sustainable solutions.
The text recalls how - despite some progress - adequate access to drinking water is not yet guaranteed in about a half of the world's population, and hopes for better water management by actors who are called to act according to sobriety, responsibility and solidarity.
The World Water Forum, organized each and every three years by the World Water Council, gather representatives of private entities, state agencies and organizations working on water-related issues.
The main contents of the document can be gathered around these three cores:
1 - stages in the formulation and recognition of the right to drinking water in the Catholic Church and the United Nations;
2 - assessment of the current situation of access to drinking water and sanitation;
3- necessary and rapid sustainable solutions to the water challenges still to be resolved.
HERE  the full text in English.