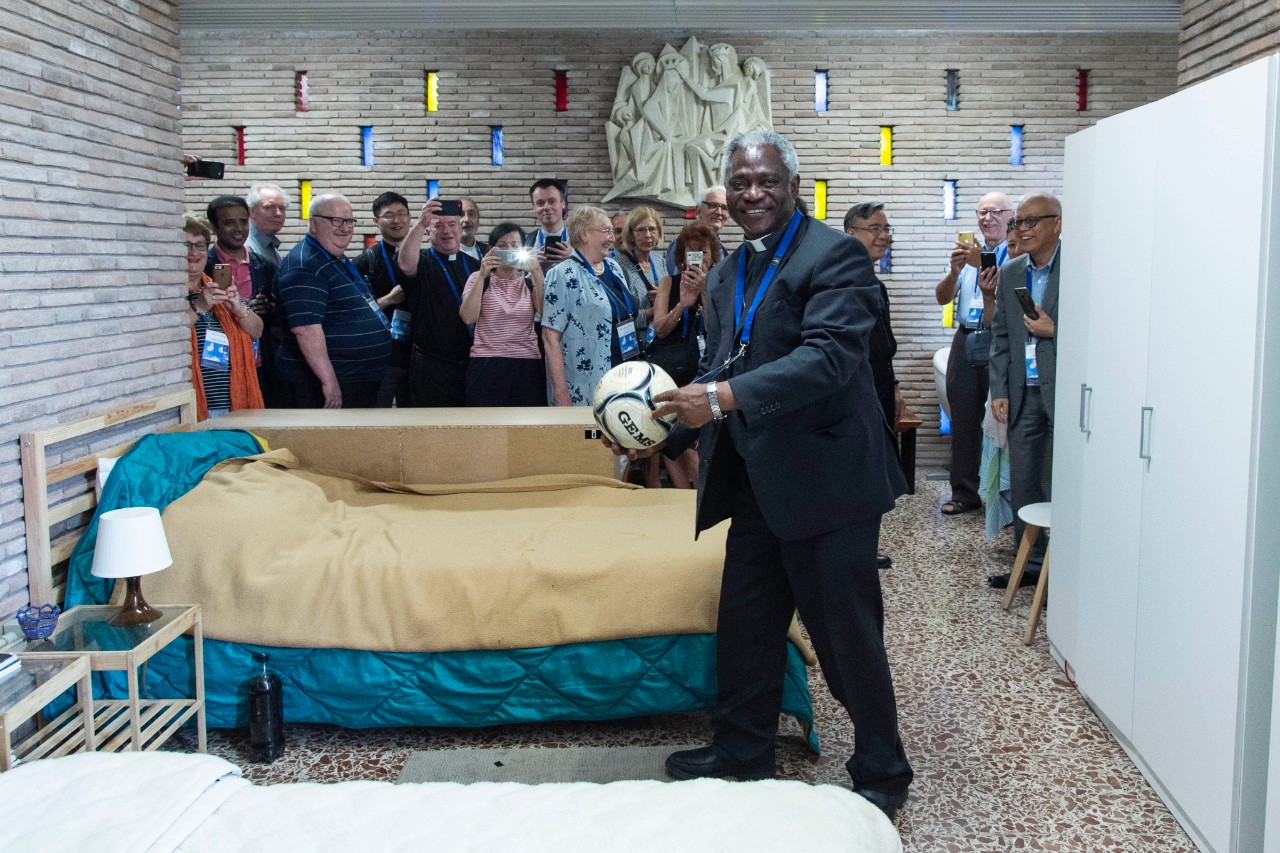 As part of the 17th Seminar for civil aviation chaplains and pastoral operators, which is currently taking place in Rome, the approximately 90 participants visited the Leonardo Da Vinci Airport in Fiumicino yesterday afternoon.
The visit, organized by the airport chaplain, Don Giovanni Soccorsi, began with the discovery of a shelter for people living in frailty, annexed to the parish of Santa Maria degli Angeli at the airport. The shelter can accommodate up to 8 people at a time, and over the years it has helped dozens of people in need, forced to live in the airport for several reasons. Homeless people, undocumented migrants, outcasts with interpersonal and mental problems: people who are given temporary support and hope for the future by the airport chaplaincy.
The charity service experience is shared by Aeroporti di Roma - ADR, its Chief Executive Officer Dott. Ugo De Carolis, Ing. Ruggero Poli who heads ADR Group Energy Systems, the Diocesan Caritas and Mons. Gino Reali, bishop of the diocese of Porto-Santa Rufina, to which the town of Fiumicino belongs.
After the visit to the shelter and a greeting from the airport authorities present, the group moved to the chapel of Terminal3, whose entrance door was the only Holy Door of an airport, opened during the Jubilee of Mercy.
At the end of the afternoon at the airport, His Eminence Cardinal Peter K. A. Turkson celebrated Holy Mass in the airport parish and blessed the new tabernacle of the church built in 1962. The celebration was enlivened by the Alitalia choir, bearing witness to the fact that pastoral airport ministry acts not only on passengers, but also on those who daily work in the airport spaces.
The airport is a place that offers opportunities to meet with God, as the Holy Father Francis recalled during the audience given to the participants, and the care and attention for the personal stories of each person, alongside the material help offered to those who are in need, are the cornerstones of the pastoral activity of the Roman airport, which introduced itself to the participants in the International Seminar as a best practice to be imitated and reproduced in the various airports of the world.