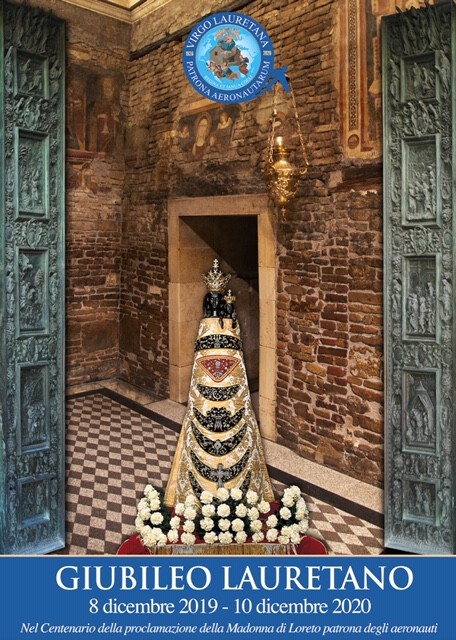 Presented in the Holy See Press Office on December 3 in the presence of Msgr. Rino Fisichella, President of the Pontifical Council for the Promotion of the New Evangelization, Msgr. Antonio Coppola, Episcopal Vicar for the Italian Air Force, and Msgr. Fabio Dal Cin, Pontifical delegate for the Holy House of Loreto, the Jubilee for the aeronauts will begin the next Sunday of the Immaculate Conception, with the opening of the Holy Door, and will end on 10 December 2020.

The Cardinal Secretary of State Pietro Parolin and Cardinal Peter K.A. Turkson, Prefect of the Dicastery for Promoting Integral Human Development, which is responsible for the pastoral care in the airports, will take part in the celebration for the opening of the Jubilee Year.
The occasion is the anniversary for the hundred years of the proclamation, by Pope Benedict XV, of the Blessed Virgin Mary of Loreto as "principal patron with God of all aeronauts". After December 8th, therefore, the Holy Door of Loreto will be the only open jubilee door in the world. It will be possible to receive the plenary indulgence both in Loreto and in all the chapels of civil, military, Italian and international airports - 260 so far - which will apply to the Pontifical Delegation of Loreto. For this reason, three statues representing the Madonna of Loreto will be sent to the main Italian and international airports, in a sort of "preregrinatio" aimed at embracing the whole world.

This Jubilee - Msgr. Dal Cin said - is "a gift of Pope Francis", which invites us to welcome "Christ as a pilot of our life, doing ordinary things in an extraordinary way and putting faith and love like Mary did". Many of the initiatives in the program can be consulted on the dedicated website.