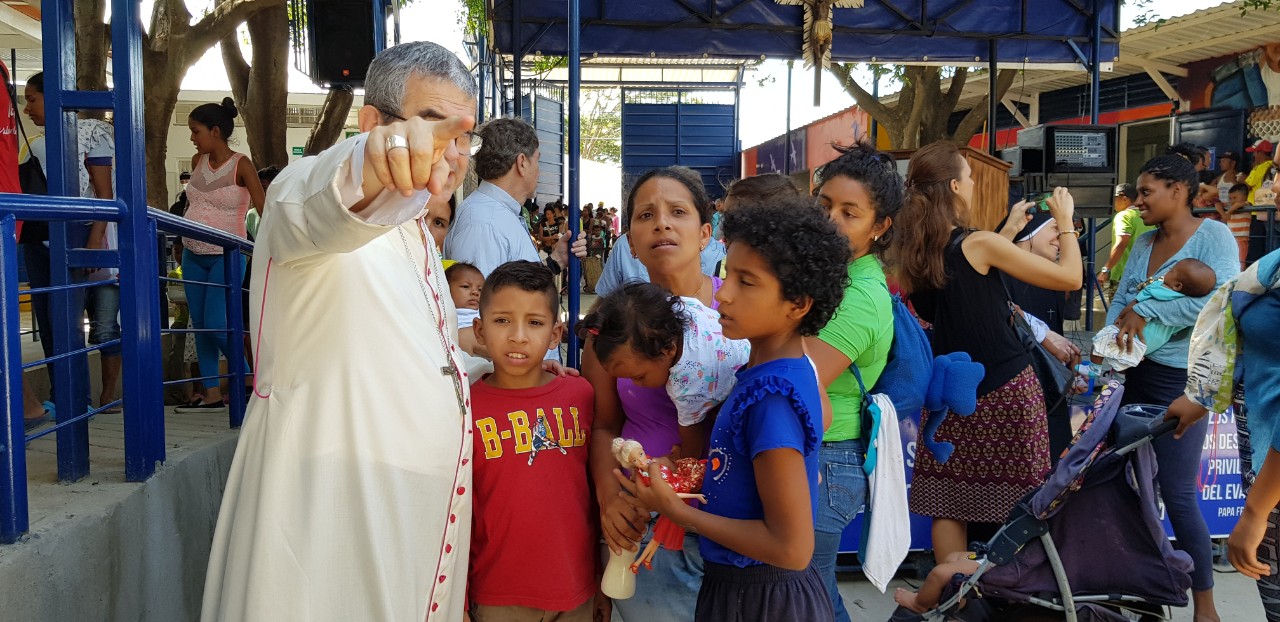 On Thursday 30 and Friday 31 January 2020, the Dicastery for Promoting Integral Human Development and the Migrants and Refugees Section promoted a meeting in the Diocese of Cúcuta (Colombia), on the border with Venezuela, entitled "Caridad en la frontera", with the pastoral intention of manifesting the Holy Father's concern for border situations, and to share and put in synergy the charitable activities of the Church in favour of the most vulnerable people in that area.
Immediately after the meeting, on Saturday, the delegation of the Holy See, led by the Sub-Secretaries of the Dicastery and the Section, respectively Mgr Segundo Tejado Muñoz and Fr Fabio Baggio, visited the projects of the Diocese of Cúcuta - financed with the Pope's Charity thanks to the Dicastery for Promoting Integral Human Development - in favour of Venezuelans who, in a situation of poverty, walk to Colombia to receive assistance.
The most significant project is the "Casa de paso Divina Providencia" which offers food, medical, juridical and spiritual assistance to more than 5,000 people a day who cross the border between Venezuela and Colombia in search of a meal and hope for the future.
The structure is entirely animated and managed by the diocese of Cúcuta, headed by its bishop, Bishop Victor M. Ochoa Cadavid, and thousands of volunteers including priests, sisters and lay people. The integral care of this suffering people is the objective of this enormous project in favor of the Venezuelan brothers and sisters, and the Dicastery has brought its support on behalf of the Holy Father.
Another 12 projects can be found in parishes, religious houses, schools owned by the diocese. Among them, the Dicastery visited the Centre of Charity for Children's Aid "La Niña María" which, since 2015, welcomes children between 2 and 10 years of age to give them a daily hot meal, clean clothes, basic education, thus allowing parents to live the day in search of employment or accommodation without the preoccupation of not being able to feed their children.
Attention to the human person, in its entirety, is also manifested in the centre where single women are taught jobs, such as tailoring, to help them get out of dangerous situations and try to give them back a dignity they believe they have lost.
There are many other initiatives put in place by the diocese of Cúcuta: the Centro diocesano de Migraciones y Solidaridad, the Banco Diocesano de Alimento, and many other refectories for migrants and the most vulnerable people.