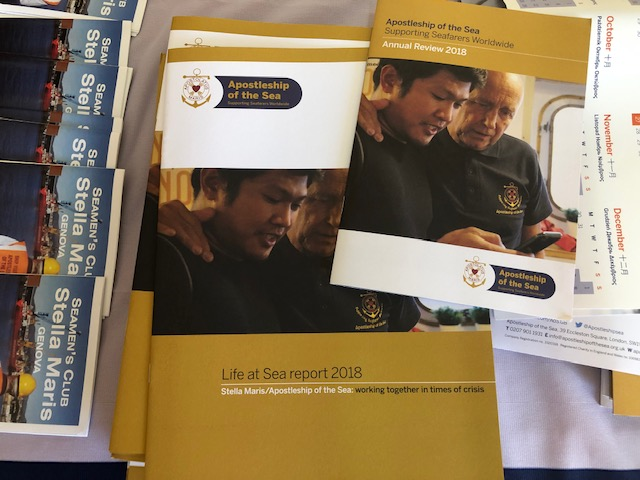 The European regional meeting of the Apostleship of the Sea – Stella Maris was held in Rome from 24 to 27 June. The national directors, chaplains and volunteers from each country, together with delegates from other continents – active in more than 300 ports all over the world – discussed the challenges and paths for developing the service promoted by the Church in favour of sea workers and their families.
Coordinated by the Dicastery for Promoting Integral Human Development, the event offered an overview of the work carried out in every single country, with regard to the initiatives developed, the difficulties encountered and the available resources.
Various themes were examined: from the commitment of chaplains on board cruise ships in favor of crews and travellers, to that of port chaplains for the welfare of all workers. An important reflection was also made on the implementation of Pope Francis' Encyclical Laudato si' in favour of "seafarers".
The chaplains on the ships and in the ports, as commonly assumed, are a point of reference for sea workers and their families, for travellers and all those who live or experience the dimension of work and life at sea: they offer not only pastoral care, but also practical help involvement in the life of the local community, cultural nourishment.
At the end of the meeting, on Thursday 27 June, the participants were received in Audience by the Holy Father Francis , who reminded them : "Your ministry to sailors and fishermen is above all one of listening to them and to their material and spiritual needs", since – he added quoting Evangelii gaudium – "Listening helps us to find the right gesture and word which shows that we are more than simply bystanders". "Your presence in the ports, large and small", he noted, "is already a sign of God's fatherhood and the fact that, in his eyes, we are all children, brothers and sisters to one another. Your presence is also a sign of the primordial worth of the human person, prior to and above every other interest, and an incentive for everyone, starting with the poorest, to work for justice and respect for fundamental rights".