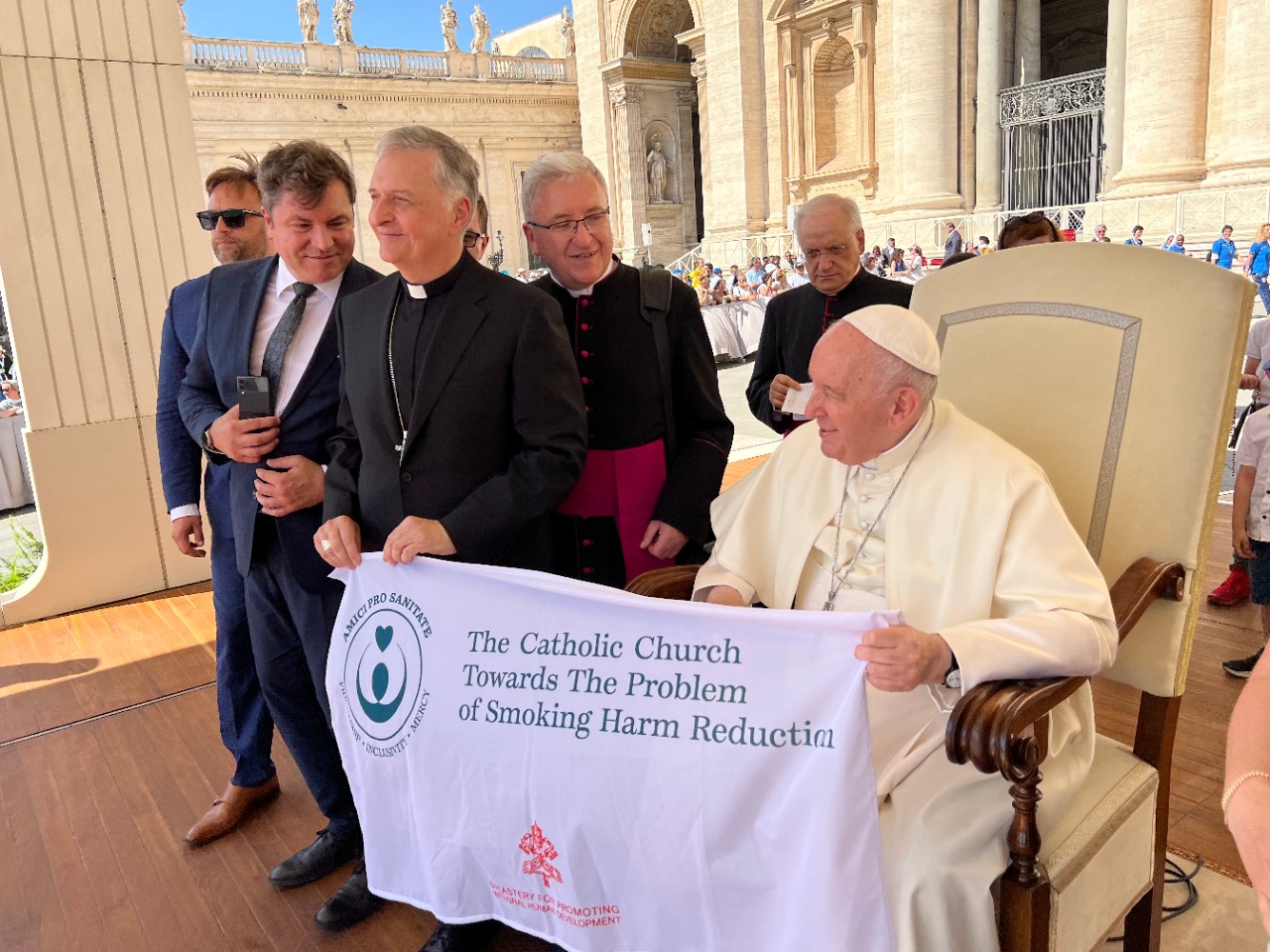 "The culture of life is a heritage that Christians must share with everyone. Every human life, unique and unrepeatable, has an inestimable value [...]. I hope that this reflection on this concrete problem can help many people to become aware of the fact that physical health is a gift from God that the Lord has given us and which we must take care of responsibly". This is what Pope Francis said in his Message to the International Seminar "The Catholic Church towards the problem of smoking harm reduction", promoted by the Association AMICI PRO SANITATE under the patronage of the Dicastery for Promoting Integral Human Development.
The event was held last 25 May, at the Pontifical University of the Holy Cross, in view of today's World No Tobacco Day, with the aim of launching a debate to promote the reduction of the harm caused by smoking and outline global, public, systemic policies to combat addiction. 
Also addressing those present with a message was Cardinal Michael Czerny, Prefect of the Dicastery, who stressed that "tobacco, like drugs and alcohol, constitutes a challenge for all those interested in the defence of life and the promotion of human dignity and integral human development". Quoting Genesis, the Prefect then recalled that "Created in the image and likeness of God, human beings have a dignified nature which they must respect and which they cannot manipulate at will, nor expose to health risks through addictive behaviour".
After the welcome address, there was a testimony of the Ambassador of the Sovereign Order of Malta in Antigua and Barbuda, His Excellency Przemysław Häuser-Schöneich, followed by speeches from ecclesiastics, doctors, scientists, scholars: Bishop Ariel Edgardo Torrado Mosconi, Bishop of Nueve de Julio, Argentina; Bishop Grzegorz Ryś, Archbishop of Lodz, Poland; Prof. Alejandro Videla, from the Austral University Hospital in Buenos Aires; His Excellency Monsignor Fortunatus Nwachukwu, Permanent Observer of the Holy See to the United Nations in Geneva, Prof. Szczepan Cofta, President of the Pontifical Council of the United Nations, and Prof. Dr. J. P. M. Szczepan, President of the European Commission. Szczepan Cofta, of the Clinical Hospital of Poznan University of Medical Science; Prof. Robert Nęcek, of the Pontifical University of John Paul II in Krakow; Dr. Lucia Ercoli, of the Institute of Solidarity Medicine; Dr. Bartosz Arłukowicz, who heads the Beating Cancer Commission at the European Parliament.