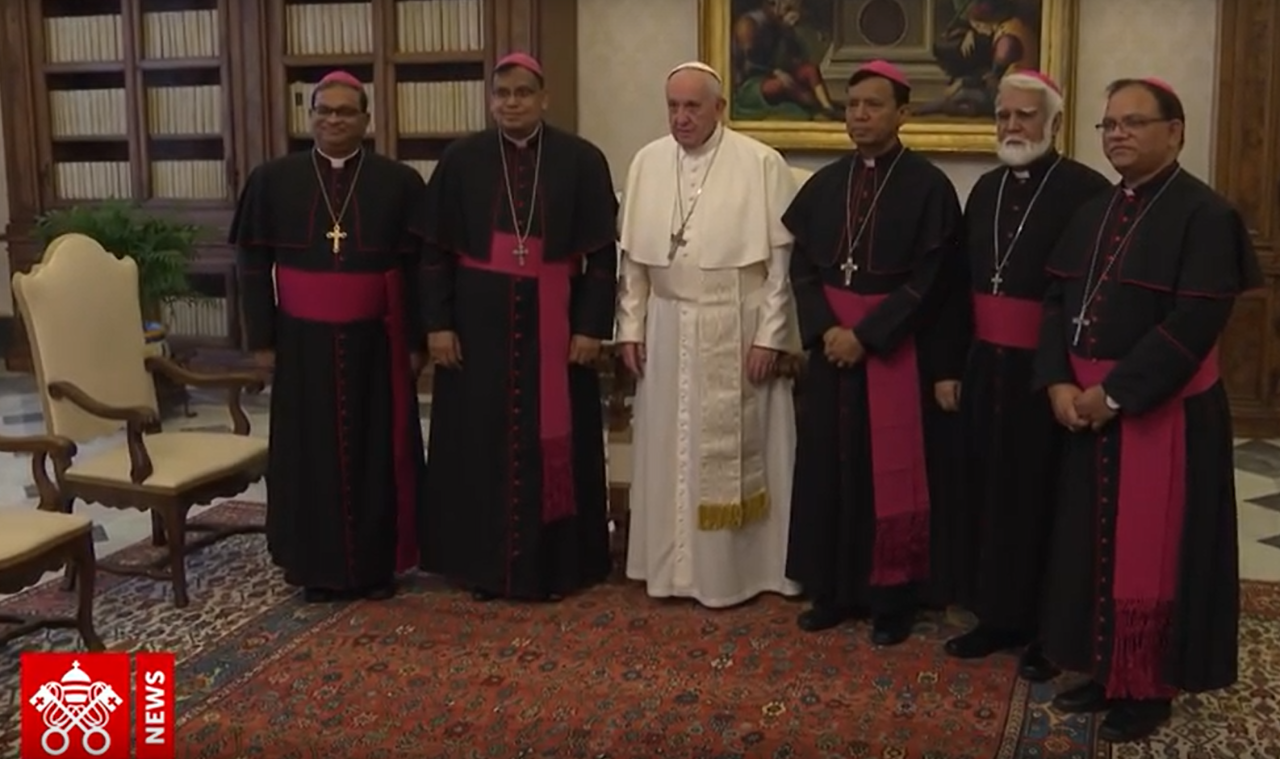 The Episcopal Conference of Pakistan visited our Dicastery last March 15th. In this interview the President of the Episcopal Conference, His Excellency Msgr. Joseph Arshad, speaks of the meaning and implementation of integral human development in the Pakistani society.
The Catholic Church in Pakistan has more than one million faithful, equal to almost 1% of the total population, and is organized in two archdioceses, four dioceses and an apostolic vicariate, all of Latin Rite. In 2004 there were 204 priests.
The Church is very involved in the social, educational and health fields, through hundreds of schools and institutes open to students of all faiths and over a hundred hospitals, dispensaries and other health facilities. Its social activities cover various sectors and include aid for the poor and other vulnerable people, projects of human promotion and those in favor of children, agricultural support programs and interventions for victims of emergencies or natural disasters. Among the numerous works of Caritas Pakistan, we should mention assistance to the victims of the 2005 earthquake and of the various floods that have hit the country in the last decade.
The Church in Pakistan is actively engaged in promoting inter-religious dialogue, even if this tends to be limited to intellectual circles.
Despite its limited resources, it shows a great vitality of faith. The great activism of the lay faithful bears witness to this. In particular, lay catechists make a fundamental contribution to the pastoral work of priests and religious. In light of the teachings of the Second Vatican Council, the Pakistani bishops encourage the participation of the laity, also by supporting the lay movements. Among those present in Pakistan are: Jesus Youth, the Community of Sant'Egidio, the Neocatechumenal Way, the Charismatic Renewal and the Focolari Movement. And it is also with the contribution of the lay faithful that the Pakistani Church has strengthened its presence in the mass media over these last years.
In order to help the small Pakistani Catholic community to offer an even stronger testimony of their faith, the Pakistani Episcopal Conference has called for 2017-2018 to be a special Year of the Eucharist under the banner of the Gospel verse "I am the bread of life".
The solemn opening of the Year of the Eucharist was held with a Mass celebrated in St. Patrick's Cathedral in Karachi on November 25, while it will end on November 25, 2018, with a Mass in Lahore.
Pope Francis sent a message to the Church of Pakistan for the occasion, in which he states: "I am confident that this year will offer a privileged opportunity to grow in love for the Eucharistic sacrifice, source and peak of Christian life". The Pope invites the Catholic community in Pakistan to "reflect every day and live a deeper sharing of the Mystery of the death and Resurrection of Christ", so as to "offer an even stronger testimony of the presence of the Lord in Pakistan".
(photos Vatican News)