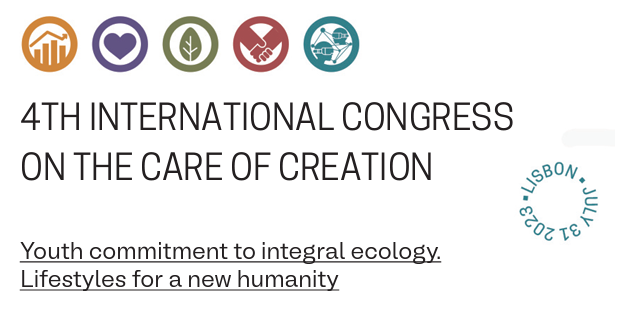 On 31 July 2023, at the Universidade Católica Portuguesa in Lisbon, the fourth International Conference on the Care of Creation took place, with the title: "Young People's Commitment to Integral Ecology: lifestyles for a new humanity".
Close to the XXXVIII World Youth Day (August 2023), which this year took place in Lisbon, the Conference had young people as protagonists. Among these, there were around 350 people, such as university delegates of Episcopal Conferences, movements and international associations, as well as Catholic Universities.
The event was an opportunity to meet various experts, who offered their reflections on 5 different areas of the human life: economy, education and family life, natural resources, politics and, finally, technology.
Mr. Daniele Bruno, President of the John Paul II Youth Foundation, explained the format of the event: "The aim of this exchange of ideas is to collectively articulate a reflection on the lifestyles we have already adopted, and also to speak of new ways we need to adopt in living our lives in order to be prepared for the cultural, spiritual and educational challenges that await the younger and future generations. Our new humanity must not look on the Earth as a resource to be exploited but as a gift from God to us."
A newl aspect of this meeting was the presence of spaces inhabited by virtual experiences, through the use of the metaverse's immersive technology. Finally, as in previous editions, the conference ended with a document: a final Manifesto signed by young people, as a result of discussion and basis for further future actions and reflections.
The Prefect, Card. Michael Czerny, delivered an address on "The theological meaning of integral ecology, at the service of the person, especially the most vulnerable" and the official Tebaldo Vinciguerra, as coordinator of the panel on natural resources, acted as moderator on behalf of and representing the Dicastery for the Service of Integral Human Development, co-organizer of the event.
In addition to the aforementioned DSSUI, supporting in the organization of the initiative are the John Paul II Foundation for Youth, the Dicastery for the Laity, the Family and Life, the Foundation WYD Lisbon 2023; the Universidade Católica Portuguesa, which is hosting the event; Catholic University of the Sacred Heart and its Alta Scuola per l'Ambiente; the Laudato Si' International Movement; The Economy of Francesco and the Magis Foundation under the patronage of the General Secretariat of the Synod, the Embassies of Portugal and the Principality of Monaco to the Holy See.