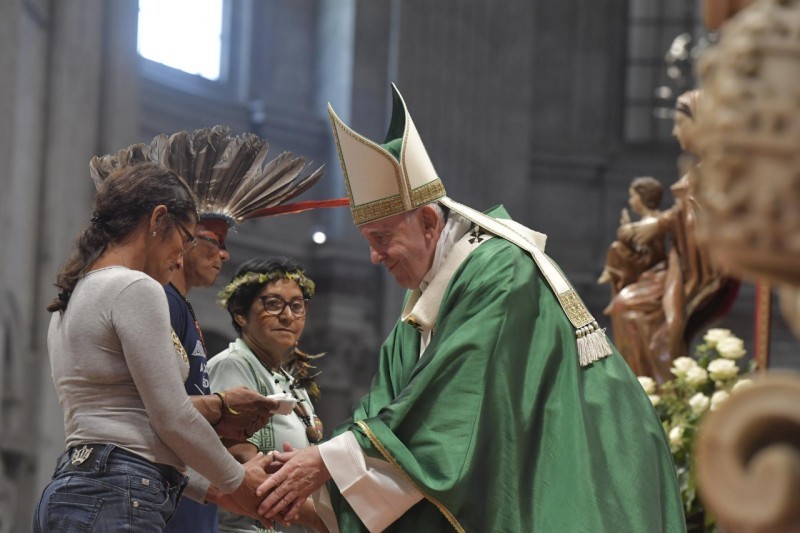 After the solemn opening ceremony, yesterday morning, October 6, with the Holy Mass celebrated by His Holiness Pope Francis in St. Peter's Basilica, today at 9:00 a.m., in the presence of the Holy Father, the 1st General Congregation of the Special Assembly of the Synod of Bishops for the Panamazonic Region began in the Synod Hall in the Vatican, on the theme: "Amazonia: new paths for the Church and for an integral ecology" (October 6-27, 2019).
The Dicastery for Promoting Integral Human Development is present at the Synod with the Prefect, Card. Peter K. A. Turkson, with H. Em. Card. Michael Czerny, Undersecretary for the Migrants and Refugees Section and Special Secretary, and with Rev. P. Augusto Zampini, Official, appointed among the experts in the Synod.
We will follow the works thanks to the daily bulletins of the Press Office and the Briefings coordinated by the Prefect of the Dicastery for Communication and by the Director of the Press Office of the Holy See. In addition, we will follow the social networks (Twitter, Facebook and Instagram) of Vatican News and of the General Secretariat of the Synod of Bishops.
On the recommendation of His Em. Card. Lorenzo Baldisseri, Secretary General of the Synod of Bishops, our Dicastery will also use the hashtag #SinodoAmazonico on our Twitter account.
The official website of the Special Assembly of the Synod of Bishops for the Pan-Amazonian region is: http://www.sinodoamazonico.va