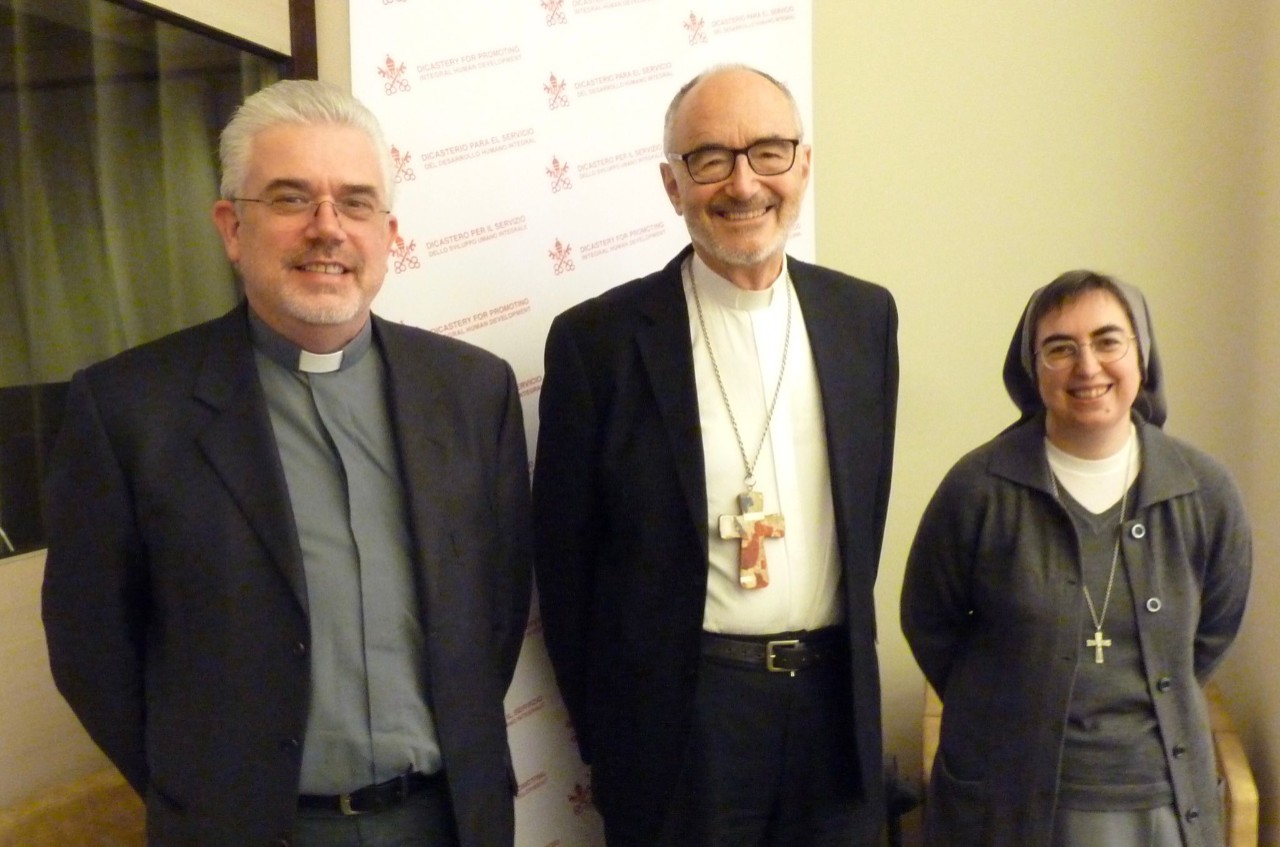 The Holy Father has appointed Card. Michael Czerny S.J. for a five-year term as Prefect of the Dicastery for Promoting Integral Human Development and Sr. Alessandra Smerilli F.M.A. as Secretary of the same Dicastery, until now respectively Prefect and Secretary ad interim. The Pontiff also appointed Fr. Fabio Baggio C.S. as Under-Secretary of the same Dicastery, with responsibility for the Migrants and Refugees Section and for special projects. The Superiors are called to lead the Dicastery in the crucial mission of "promoting the human person and his God-given dignity" (Praedicate Evangelium, art. 163) in all areas of public and social life, as well as to implement the recommendations produced by the Evaluation Commission, established by the Holy Father in mid-2021 and led by Card. Blase Cupich, Archbishop of Chicago.
Card. Michael Czerny S.J., Prefect of the Dicastery, Sister Alessandra Smerilli F.M.A., Secretary, and Fr. Fabio Baggio C.S., Under-Secretary, have issued the following joint statement:
"We thank the Holy Father for the confidence he has shown in us and in our capacities. We thank all those who have cooperated with us during this interim period in carrying out the mission of the Dicastery. Our gratitude also extends to Cardinal Peter K.A. Turkson and those who were Superiors in the Dicastery until the end of 2021.
We commit ourselves to the service of the Holy Father and of the Church throughout the world. We seek to assist the Church in promoting the integral development of each person and the care of our common home. "The manifestation of God in Christ — including his gestures of healing, of liberation, of reconciliation and of peace that today we are called to propose anew to the many wounded on the roadside — points out the path and the way of service that the Church intends to offer the world."[1]
We also explicitly commit to implementing the recommendations made by the mid-2021 Evaluation Commission established by the Holy Father and chaired by Cardinal Blase Cupich.
The whole dicastery's congratulations and best wishes go to Card. Peter K.A. Turkson, called by the Holy Father to serve as Chancellor of the Pontifical Academies of Sciences and of Social Sciences".
[1] ADDRESS OF THE HOLY FATHER FRANCIS TO THE PARTICIPANTS AT THE CONFERENCE PROMOTED BY THE DICASTERY FOR PROMOTING INTEGRAL HUMAN DEVELOPMENT, ON THE 50TH ANNIVERSARY OF THE ENCYCLICAL "POPULORUM PROGRESSIO (4 April 2017).