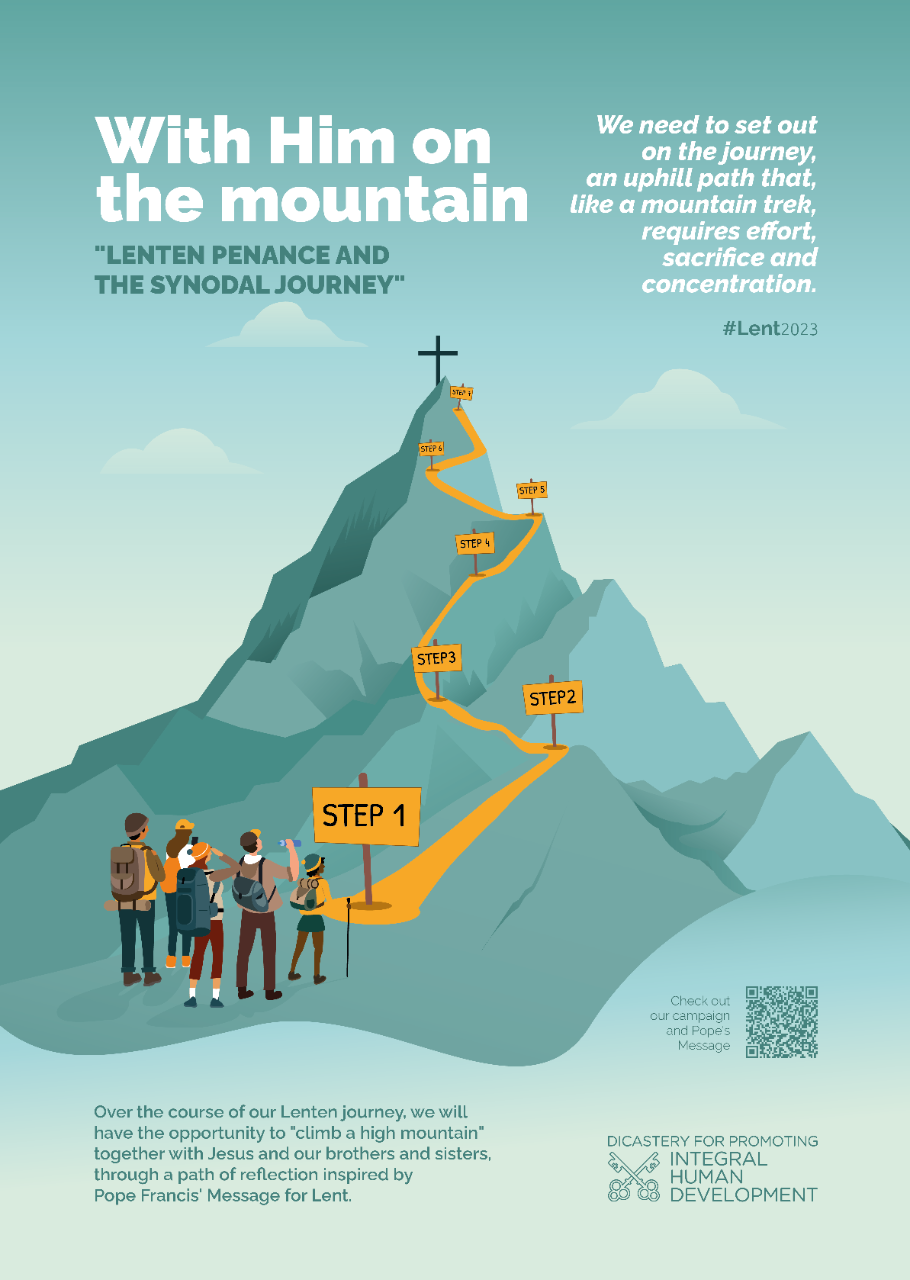 The Holy Father Francis' Message for Lent 2023 is entitled "Lenten Penance and the Synodal Journey". The text was presented in the Holy See Press Office on Friday, February 17.
The press conference was attended by: Card. Michael Czerny, S.I., Prefect of the Dicastery for Promoting Integral Human Development; Fr. Walter Magnoni, Head of the pastoral community of Our Lady of Lourdes in Lecco and lecturer in Social Ethics at the Faculty of Economics of the Catholic University of the Sacred Heart of Milan; Mrs. Sandra Sarti, President of Aid to the Church in Need Italy.
The press conference was live streamed in original language on the Vatican News Youtube channel. It is possible to watch it again here: https://www.youtube.com/watch?v=WaLdCAbr3FA .
In his message for Lent this year, the Holy Father chooses the Gospel of the Transfiguration, inviting us to an experience of Lenten penance in which we are called to "ascend 'a high mountain' in the company of Jesus". Like the disciples who were led by the Master to Mount Tabor, we will not be alone on this uphill journey, but in the company of our brothers and sisters. This is the reason why, Pope Francis reminds us, our Lenten path is a synodal journey. At the end of a pathway that "requires effort, sacrifice and concentration", we will arrive to the summit, where "the panorama that opens up at the end amazes us and rewards us by its grandeur".
The Dicastery for Promoting Integral Human Development wishes to relaunch, week after week, the contents of this message, in order to offer the Churches around the world an aid to live their Transfiguration in a practical way. Following the allegorical inspiration of the Lenten ascesis as a mountain trek, given by the Holy Father, it is proposed to make a path of Lenten reflection that might, step by step, accompany us to the summit of the mountain and "help us to understand better God's will and our mission in the service of his kingdom."
Come back for new content to download every week!
Follow the #Lent2023 campaign on our Twitter and Instagram